It's that time again, boys and girl! The authors at Romance Writers Weekly are back again to share their thoughts and insights about life and writing. If you're here from Raine Balkera's blog, welcome! If you're just starting out, be sure to check out the other authors in the hop. This week's question comes from A.S. Fenichel.
What's your favorite vacation spot?
I've been a lot of places, most of them hot and tropical. My most favorite place is Rome, Italy. I visited there with my parents a few years ago and it was great beyond my wildest dreams. Being a huge history buff, I was enamored with the ancient ruins that are everywhere around the city. My eight-year old self dreamed of visiting Pompeii. I never thought it would actually happen.
The people were friendly and so helpful. I lost ten pounds walking the city streets from morning until late at night which is pretty good considering the food is out of this world! Fresh pasta and wine. And don't get me started with the gelato. I met a girl from Florence on the flight there. Her advice was to eat gelato – lots and lots. Believe me, I did my best. Sometimes I ate it three times a day and once in the piazza outside the Pantheon! I threw a coin into the Trevi Fountain, so I'm sure I will go back.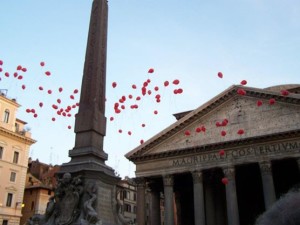 The top of my bucket list is Scotland. I am obsessed with Scotland. When I'm not writing, I'm reading or watching documentaries on Scotland. My bookshelves are full of research books about Scotland. It's so full of mystery and history. I can't wait to visit the places where my ancestors once lived.
Well, enough about that. I could go on forever. I love to travel. I think it brings new perspective to life. I hope you get the chance to take a trip or two in your future!
Be sure to check out Mikki Cober as the next stop on the hop!