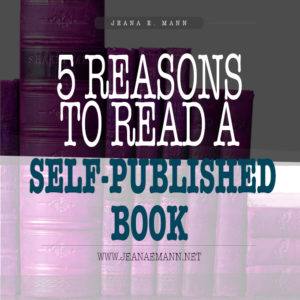 No matter what you may have heard to the contrary, self-publishing is a growing industry. Take a look at the recent list of bestsellers, and you'll see any number of self-published books on the list. Here are my top five reasons you should give one of these gems a chance:
1. Lower Price – Self-publishers control book production from start to finish. Because they don't have the high overhead costs of a traditional publishing house, they are able to keep prices reasonable. In traditional publishing, more people require a cut of the profit with the author often being at the bottom of the list. Self-publishers are efficient at keeping their costs low to maintain a reasonable price and pass the savings on to their beloved readers. And because self-publishers are in control of their pricing, they are able to run sales or offer the first book in a series for free.
2. Subject matter – Indie books are often on the cutting edge of popular genres. The authors are passionate about their chosen subject matter. Because the writers don't have to answer to a corporate gatekeeper or fit a business model, they can touch on edgy and dark topics previously regarded as taboo by the more conservative traditional publishers. They are only limited by the bounds of their creativity.
3. Speed – You no longer have to wait years to get the next installment of your favorite series. In traditional publishing, it often takes a year or more for a book to move through the process of acceptance to print. Indie books have a shorter turnaround time from start to finish. Some indie authors publish 5-7 books a year or more.
4. Quality – When you buy indie, you are supporting an entire community of passionate freelance artists. Gone are the days of poorly written, unedited drivel. Although there are still some horrible self-published works out there, the numbers are dwindling. The quality of indie books has upgraded dramatically and continues to improve. Serious indie authors are raising the bar on quality, sending their works through several rounds of edits with beta readers and professional editors before producing a finished product. Often times, indie authors employ the same editors and cover artists as the traditional publishing houses, providing the same or better quality at a fraction of the cost.
5. Personal – Indie authors are closely connected and available to their readers. You can find them on Facebook, Twitter, and a multitude of other social media platforms. They welcome your feedback and love to interact with their fans. If you send an email or instant message to your favorite indie author, chances are very good that you will get a personal reply back. Indie authors also love to shower their followers with gifts, giveaways, free books, and prizes.
Let me add that this article is in no way meant to diminish the value of traditionally published books. There is a place in the reading world for both types; they offer different things for different people. Just because I like to eat at a restaurant, doesn't mean I don't appreciate a good home cooked meal.
Jeana E. Mann is the award winning author of contemporary and erotic romance fiction and a member of Romance Writers of America. When she's not writing books, you can find her on the nearest hiking trail with her two dogs, Mildred Wilson and Mabel Epperson. Connect with her at www.jeanaemann.net.